Bringing hospital cooling into the future with BPHE upgrade
Every technology is designed for a wide range of applications and has its own pros and cons, but sometimes there are many advantages to choosing one technology over another. Heat exchangers have different technologies and can be used in many application processes. However, with the correct technology, it is possible to optimize and increase the efficiency of the application.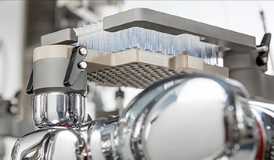 Optimizing freeze drying solutions for the Pharma Industry
For more than half a century, IMA Life Freeze Drying Solutions has been the gold standard when it comes to providing the benchmark for freeze drying solutions to the pharmaceutical and biotech industries.
Le supermarché britannique réduit son empreinte carbone grâce à une technologie innovante
La chaîne de supermarchés Sainsbury's a considérablement réduit l'empreinte carbone d'une installation de chauffage et de refroidissement de son supermarché de 9 300 mètres carrés à Crayford, dans le Kent, au Royaume-Uni. Pour ce faire, l'entreprise a adopté des techniques innovantes alliées à un système intelligent de gestion de l'énergie.
Environmentally friendly supermarket
Keeping food fresh with CO2 and brine. Supermarket refrigeration systems commonly use synthetic refrigerants such as R404A and R22.
Refroidissement des aliments avec du CO₂ transcritique
La majorité des scientifiques s'accordent à dire que le climat de la Terre est en train de changer et que l'activité humaine est la cause première de ce changement.
Breaking new ground for transcritical CO2 systems
BITZER Australia approached SWEP to create a new transcritical CO2 system for a Woolworths grocery store in Sydney, Australia. SWEP has led the global development of ultrapressure BPHEs for transcritical supermarket refrigeration for the last decade and was prepared to solve the challenges that the hot Australian climate poses for transcritical systems.
SWEP BPHEs help maintain playing conditions at top golf course
Southern Hills Country Club in Tulsa, OK was faced with the challenge of maintaining soil temperatures for its new Cool Season Bank grass between 65°F and 80°F degrees throughout the year. With the help of RAE Corporation and the Technical Systems team, along with SWEP BPHEs, a system was designed that will prevent the club's 18 greens from dying in harsh temperatures.