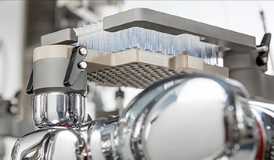 Optimizing freeze drying solutions for the Pharma Industry
For more than half a century, IMA Life Freeze Drying Solutions has been the gold standard when it comes to providing the benchmark for freeze drying solutions to the pharmaceutical and biotech industries.
Pioneer power station with BPHE LNG vaporizers
One of the world's first power stations with BPHE LNG vaporizers has been installed at a gold mine in Perth, Australia. The company behind the project, EVOL LNG, is a leading provider of LNG for transport, power generation and other industrial applications. It provides a trucked natural gas solution to fuel off-grid power stations and deliver a solution with less capital cost than natural gas pipelines and with lower fuel costs than diesel.
Aircel air dryers show their full potential with ADWIS
With 100,000 units sold at the beginning of 2015, SWEP's range ADWIS (Air Dryer With Integrated Separator) is now quickly becoming the market standard within several industrial applications. A successful combination of research and thorough knowledge of market demands, this solution solves a common problem without compromising compactness or efficiency.
Jacket temperature control
Keeping the temperature of chemical reactions at the right level is a delicate matter. Often the reaction takes place in a reactor and is very sensitive to temperature changes.
Des Les refroidisseurs industriels de haute capacité ne font pas le poids face aux BHPE de SWEP
Les refroidisseurs industriels sont disponibles en différents modèles et tailles. Traditionnellement la technologie d'échangeurs multitubulaires est utilisée dans les Chillers de haute capacité, cependant les échangeurs à plaques brasées Swep sont en train de révolutionner le secteur. Puissant malgré leur petite taille, ils s'adaptent parfaitement à la plupart des applications industrielles.
SWEP Malaysia: BPHEs used for highly efficient cooling systems
Take a closer look at the cooling system at SWEP Kuala Lumpur, Malaysia, as an example of a highly efficient and low-maintenance cooling system.
Cooling sheet metal laser cutting equipment with SWEP All-Stainless BPHEs
SWEP's robust All-Stainless Brazed Plate Heat Exchangers (BPHEs) helped provide optimized cooling for sheet metal laser cutting equipment where deionized water is the main coolant. The copper-free chiller system was imperative to maintain the integrity of non-conductive coolants.